Regular price
$162.99 USD
Regular price
$179.99 USD
Sale price
$162.99 USD
Unit price
per
Sale
Sold out
Tracked Delivery FREE
Only left in stock
people watching this product
View full details
Description

Shipping

SIZE GUIDE
Freyr Sculpture, Handmade Wood Carving Statue
Freyr was one of the most widely and passionately venerated divinities amongst the heathen Norse and other Germanic peoples. One Old Norse poem calls him "the foremost of the gods" and "hated by none." The reasons for this aren't hard to understand; their well-being and prosperity depended on his benevolence, which particularly manifested itself in sexual and ecological fertility, bountiful harvests, wealth, and peace. His role in providing health and abundance was often symbolized by his fylgja, the boar Gullinborsti ("Golden-Bristled").

It shouldn't be surprising, then, that Freyr was a frequent recipient of sacrifices on various occasions, such as the blessing of a wedding or the celebration of a harvest. During harvest festivals, the sacrifice traditionally took the form of his favored animal, the boar.

His father is Njord, and his mother is Njord's unnamed sister (presumably Nerthus). Freyr himself has been the lover of numerous goddesses and giantesses, including his own sister, Freya. Apparently, incest is a common and acceptable practice among the Vanir (although amongst the historical Germanic peoples it certainly wasn't).

Freyr's residence is Alfheim, the homeland of the elves. This could mean that Freyr is the ruler of the elves, but since this is never stated explicitly in the surviving sources, it must remain a fascinating conjecture. The relationship between the gods and the elves is sufficiently ambiguous to allow for a number of possible connections between Freyr and the elves.

Another one of Freyr's signature possessions is his ship, Skíðblaðnir, which always has a favorable wind and can be folded up and carried in a small bag.[9] Its name, which means "Assembled from Pieces of Thin Wood," suggests that it served as the mythological archetype of ships that were constructed for particular ritual purposes and were never meant to be seaworthy.
Specifications: 
Materials: ash wood

Height: 22 cm /

 

9 inches

Width 9.5-10cm /

 

3.75 inches

Depth 4.5-5cm / 1.75 inches
Vikings of Valhalla delivers internationally via a network of specialized carriers. Your order will be delivered free of charge to the address of your choice between 10 and 25 days after validation of your order. 
Rest assured that your package is secured during transport. In case you have encountered any issue please contact us as soon as possible by e-mail at vikingsvalhallashop@gmail.com or directly using the contact form below.
It is essential to know the size of your wrist and/or finger before making your purchase.

This guide will help you determine the size of your future bracelet or ring.
The method is relatively simple, download the guides and make sure to print them in full A4 size. Then determine your size by carefully following the instructions.
Bracelets
Download Your Printable Sheet: Size Guide.
Viking Rings
How to measure your finger size?
Download your printable Ring Size Guide sheet here.

You can determine your size by using a perfectly fitting ring or by measuring the size of your finger.

We show you two ways to easily find the right ring size for you, along with the size chart:
SIZE Inside Diameter Circumference
US & Canada (reference size for your order)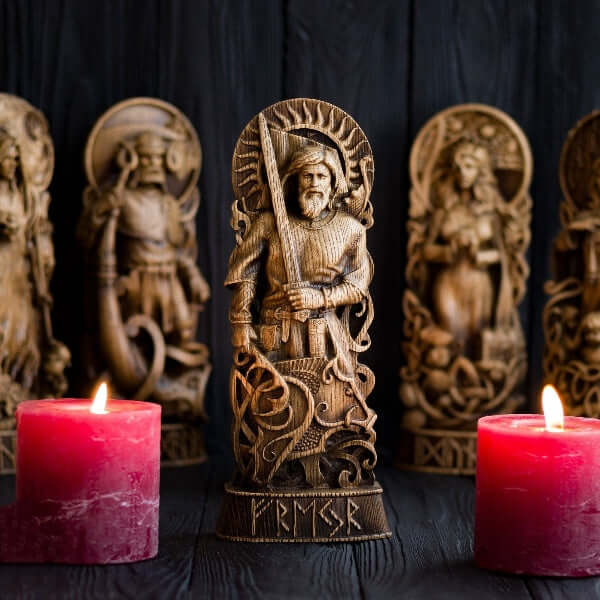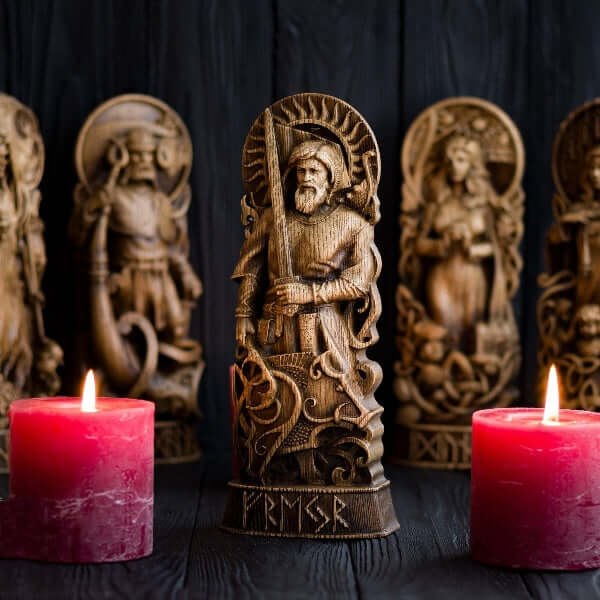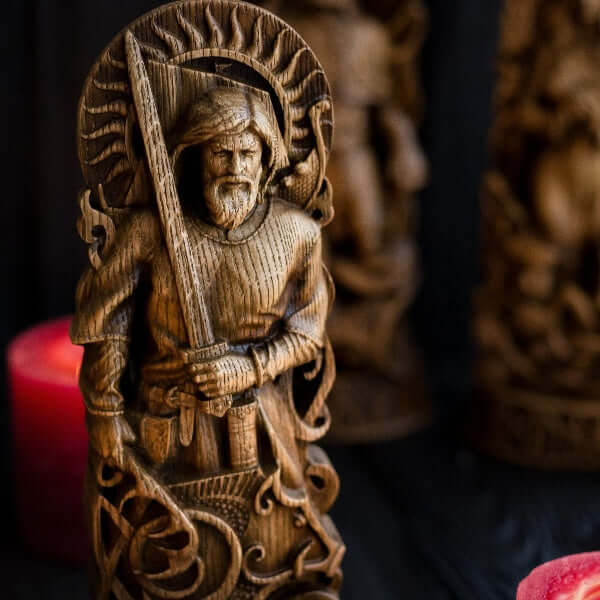 Freyr Sculpture, Norse God Wood Carving Statue